Old trees are fascinating because they have seen history unfold. All the ancient trees have been through more than any person alive today, considering the UK's oldest forests are home to trees that are thousands of years old. But that isn't the only reason why old trees are so special.
The oldest trees are better from an environmental standpoint. But first, I want to know where in the UK long-living trees have successfully adapted and thrived.
Where Can I Find Old Woodlands in the UK?
Some of the longest living trees are found in forested regions all over the UK.
The New Forest of Hampshire
William the Conqueror once claimed The New Forest and granted only himself and his aristocratic circle privileges to its access, in 1079. William the Conqueror and his men were allowed to hunt wild boar and deer in the forest. The forest now covers 219 square miles and is the backdrop for many smaller villages and wide open pastures.
Throughout May, bluebells bloom and giant sequoias cover the surroundings. Walking through, I might be intimidated by the enormous leaves and trees like something from an entirely different time.
Glen Affric Forest of Scotland
Glen Affric is a magnificent forest with 30 miles of old pinewoods and thick brush. The woodlands are surrounded by snowy mountains. It's an incredible place to go for a hike as the area has scenic walking trails that include waterfalls and canyons.
Glen Affric has its share of wildlife that calls it home, including otters, red squirrels, and golden eagles.
Sherwood Forest in Nottingham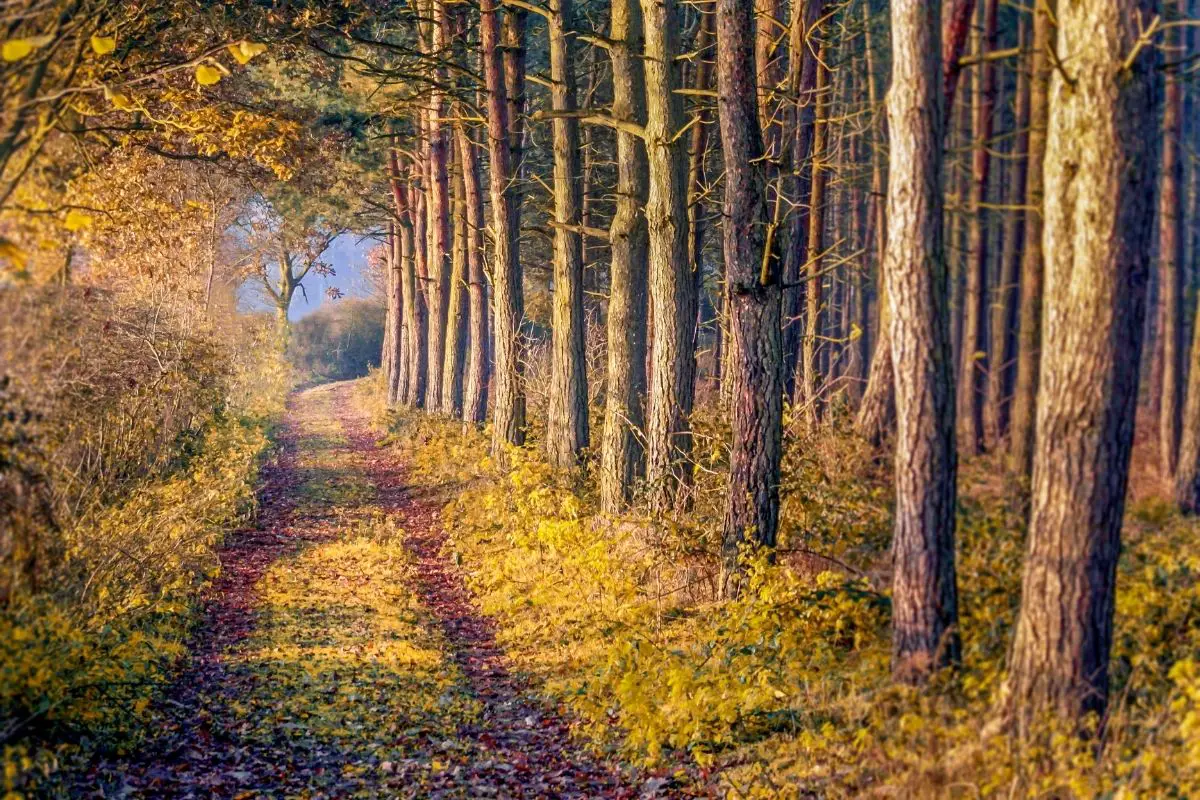 I'm sure the story of Robin Hood, who took from the rich and gave to the poor, is well known. He is thought to have roamed and lived in the old Sherwood forest of Nottingham. Besides imagining what life was like during the days of Robin Hood and his merry men, I can visit Sherwood forest today and experience the calm of over 1,000 giant old oak trees.
The biggest oak in Britain is thought to be around 1,100 years old. Chestnut trees are mixed in with other species of old trees, including chestnut, birch, and pine trees. I might even spot an owl or woodpecker atop the branches.
Other old forests in the UK include:
Hatfield Forest in Essex
Tollymore Forest in Northern Ireland
Delamere Forest in Cheshire
Thetford Forest in Norfolk
Epping Forest in Essex
Are There Any Ancient Forests in the UK?
While I may have thought old trees are the same as ancient trees, it turns out there are three distinct classes to define how old a tree is. A tree is categorized by its age as:
The third group, ancient trees, are considered life-lottery winners as they are the oldest trees of all long-living trees. They contribute to the environment in a variety of unique ways and their existence relies on a forest to generate over many centuries. Ancient, as well as old, trees contribute to the capacity for forests to thrive in the environment and adapt in the long-term.
Additionally, ancient trees allow researchers to gather invaluable data on longevity as well as historical information about the environment. Moreover, both old and ancient trees are irreplaceable. Because of their adaptation through radical changes over long centuries of time, it is impossible to replace old and ancient trees through methods of restoration or regeneration.
Ultimately, all we can do is protect ancient trees in order to preserve them. According to the Woodland Trust organization in the UK, a Tree Preservation Order usually must be "made by a local planning authority to protect a specific tree or woodland from deliberate damage and destruction."
What is the oldest tree in the UK?
The oldest tree in the UK is the Fortingall Yew, estimated to be around 2,000 to 3,000 years old. The tree is located in Perthshire and is so large that the trunk has split several times over. The split trunk makes the yew appear as though it is many different trees, rather than one.
For a tree to be considered ancient, it must pass into the third and final stage of its life–the lifespan depends on the type of tree in question. A Yew is considered ancient once it reaches to at least 800 years old. A beech, on the other hand, is considered ancient once it reaches 225 years old.
Why is it important to protect old trees?
Ancient trees are the heartbeat for other living creatures in the UK's natural environment. Over centuries, these trees have developed into homes for thousands of different creatures and living organisms that depend on the trees or their very survival. For instance, fungi and invertebrates live in roots and tree trunks and use decaying wood for nourishment.
Bats and owls live in the tree's cavities, which split open over time as the tree becomes older. Some ancient trees in the UK are protected. However, many are vulnerable to destruction and damage due to people or environmental stressors like weather.
Why are old trees better?
Old trees typically have incredible biodiversity and they play an invaluable role in preserving wildlife. Furthermore, ancient trees are able to store carbon dioxide more efficiently than younger trees. What this means is that ancient trees keep carbon dioxide from going back out into the atmosphere at a much slower rate than younger trees.
Essentially, ancient trees contribute to the overall balance and harmony of the natural environment–the environment they share with humans and other living things.