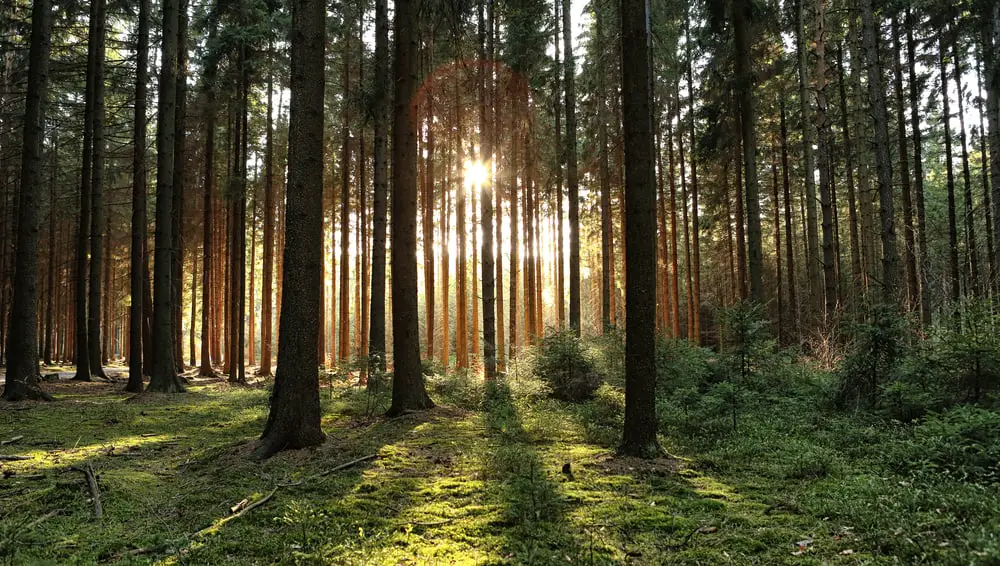 Oregon is the ninth biggest state in size, with over 62 million acres. Over 2 percent of it is water, and nearly half (30 million acres) is forest. These forests are owned or run by a large number of organizations, the government, and citizens.
That's a lot of trees. But what types of forests are there in Oregon? Are they all pine?
Coniferous trees make up 86 percent of Oregon's forests. Douglas-fir is the most popular tree, making up 35 percent. Following are ponderosa pine, and Western hemlock.
Oregon's hardwood forests cover around 3 million acres, and common trees are alder, maple, western oak, tanoak, and laurel.
Oregon is a diverse state in geography, climate, and thus, so are its forests and trees. Oregon has 67 native species, thirty of which are coniferous and 37 that are broadleaf. The denser forests are closer to the coast, while the arid climate of the semi-desert forces the trees to spread out.
The state hosts a mix of working forests and old growth.
Table of Contents
Who Owns And Manages Oregon's Forests?
The estimated 2.7 billion tons of trees (alive and dead) are roughly spread out between the government (Federal, state, and local), Native Americans, land trusts and conversation groups, and private ownership (companies and individuals).
National Forests
The federal government has eleven national forests in Oregon, which make up around 25 percent of the state's land. These national forests are a mix of working forests and old growth. This is because, unlike national parks, national forests and grasslands are open to managed commercial use, including logging.

However, Oregon has strict laws and regulations when it comes to logging and wildlife protection. Thus, logging on federal lands is down by at least 90 percent of what it was before 1990. So unless a forest fire has swept through, a visit to an Oregon national forest should be one with plenty of trees.
11 Oregon National Forests
Deschutes National Forest
The Deschutes National Forest is located in the Central Oregon Cascades. The forest covers 1.6 million acres, 54,000 of which is the Newberry National Volcanic Monument that includes lakes and lava flows. While there hasn't been an eruption in 1,300 years, the system is still active and, thus, is monitored in case it wakes up.
Fremont National Forest
The Fremont and Wineman forests comprise 2.3 million acres. The semi-arid forest runs up to the border of Crater Lake National Park. Many animals call the place home, including black bears, mountain lions, and bobcats.
The forest is popular with bird watchers, as many migrating birds pass through in addition to the ones that live year-round. The area is also great for horse riding, hunting, fishing, and hiking.
Malheur National Forest
Malheur National Forest covers 1.7 acres and is situated in the Blue Mountains of Eastern Oregon. The Strawberry Mountain range runs through the forest, east to west, and reaches as high as 9038 feet (2754 m). Dominate trees in the forest are pine, fir, and juniper.
Mt. Hood National Forest
Mt. Hood National Forest is popular since it is only 20 miles east of Portland, Oregon's largest city. The over million acres contain the mountain, lakes, streams, and the Colombia River Gorge.

Mt. Hood is Oregon's highest peak and is incredibly picturesque. The volcano hasn't erupted for 1,500, and the last sign of any significant smoke was between 1859-1865. At present, it is quiet and is host to plenty of tourism, including skiing, climbing, hiking, and camping.  
Ochoco National Forest
Ochoco National Forest spreads across 845,498 acres and sits in the center of Oregon. The forest is home to many reptiles, birds, and mammals, including endangered and threatened animals such as the peregrine falcon, bald eagle, wolverine, and redband trout. Another unique sight in this area is the wild horses.
Rogue River-Siskiyou National Forest
The gorgeous Rogue River-Siskiyou National Forest is located in the Pacific southwest. The 1.8 million acres are incredibly popular for recreational activities.  However, it is also home to black bears, so people are asked to please take care of their food and garbage.
The area weds the Cascade Range and the Klamath and Siskiyou Mountains. In it are numerous animals and plant species, many of which are rare or endangered. In fact, it is considered to be the most the United States' most "floristically diverse National Forest."
Siuslaw National Forest
Siuslaw National Forest's 630,000 acres stretch from the Oregon coast, across the Oregon Dunes, and runs up to the coastal mountains. Four major rivers flow through: Nestucca, Alsea, Siuslaw, and Umpqua. These are home to many fish, including salmon and steelhead. The trees in this area are primarily young Douglas-fir.
Umatilla National Forest
Umatilla National Forest is 1.4 million acres that extend from Northeast Oregon into Southeast Washington. It is home to the biggest population of Rocky Mountain Elk in any national forest. This attracts around 40,000 hunters each season. It is also home to the North Fork John Day River (NFJD), popular with river rafters that love rapids.
Umpqua National Forest
The Umpqua National Forest consists of 983,239 acres and stretches across three counties. One hundred seventy-two miles of the Rogue-Umpqua National Scenic Byway snakes through, with views of the North Umpqua River.  Rafter and kayakers can find stretches that suit their skill level, from tranquil Class I to IV rapids.

The forest is home to 18 species of fish, such as Chinook salmon and numerous trout, and 66 types of mammals, including deer, fox, elk, black bear, and cougars. Bird watchers also love the area, as it hosts over 236 bird species.
Wallowa-Whitman National Forest
Wallowa-Whitman National Forest's 2.3 million acres stretch over three states: Oregon, Idaho, and Washington. Notable spots are Hells Canyon and Eagle Cap Mountains and have ten major rivers running through them.
Willamette National Forest
Willamette National Forest contains 1.6 million acres and sits in the Three Sisters and Mt Jefferson ranges. Rivers and streams run through the area, with over 375 lakes. Douglas-fir dominates the old-growth forests, but 15 other conifer species are there, including cedar and hemlock.
The forest is home to a plethora of wildlife, including the spotted owl, bald eagle, black bear, mule deer, bass, salmon, and trout. In addition, there is a myriad of trails to hike, along with two scenic byways for people to drive through, in addition to mountain roads.
State Forest
Oregon Department of Forestry (ODF) manages 745,00 acres of forested land. This includes six prominent forests as well as other smaller pockets of forested areas.  
6 Oregon State Forests
Clatsop State Forest
Clatsop State Forest covers 154,000 acres in the Northern Coast Range. The state got the land after timber owners failed to pay their taxes. The forest comprises second-growth Douglas-fir, western redcedar, hemlock, and some other hardwoods.
Most of its recreation areas are "pack in and pack out". Popular spots are the Steam Donkey Trail, Bloom Lake Trail, and the Lost Lake day-use area. There is also a network of trails for off-highway vehicles.
Elliot State Forest
Elliot State Forest is 82,000 acres that sit in the Southern Oregon Coast, just north of Coos Bay. The state almost lost the land in 2017 but was saved through a grassroots initiative and outcry. It is now transitioning to become a publicly owned state research forest thanks to a collaboration between Oregon State University and  The Oregon Department of State Lands. 
Gilchrist State Forest
Gilchrist State Forest is 72,000 acres and is the newest addition to the state, purchased in 2009 and officially dedicated in 2010. In 2015 The Conservation Fund helped the state add 29,000 acres to the forest. However, due to being heavily logged, most of the trees are new, around twenty years old.
Santiam State Forest
The Santiam State Forest is 47,000 acres that sit 25 miles south of Salem, the state's capital. The land was passed over to the state after timber companies failed to pay taxes. Thus, most of the trees are from seedlings replanted in the 1940s.
The area is currently suffering after devastating fires in 2020. Further information on the restoration process is here.
Sun Pass State Forest
Sun Pass State Forest covers 21,300 acres and sits south of Crater Lake. Most of it was purchased in 1943 from a lumber company. The rest was bought between the 1970s and 80s. The land consists of mountain meadows and pine and fir forests.
Tillamook State Forest
Tillamook State Forest covers 355,000 acres of the Northern Coast Range. The forest hosts plenty of trails, picnic spots, and campgrounds. There are also off-highway vehicle trails and horse camps. The rivers and streams are popular for fishing and kayaking.
Tribal Forests (Native American Forest Lands)
Oregon is home to nine federally recognized Native American Tribes*. Thus, there is forest land that is managed by Oregon's Native American tribes.

The history of Native Americans' right to occupy and manage their own land, including forests, is complex, primarily due to many broken promises from the US government and colonialists. 
While tribal forestland can and is sometimes harvested, the Oregon Forest Facts 2019-2020 shows on its chart on page four that Tribal Forestland makes up a tiny percentage of annual timber harvests.
Oregon State University's College of Forestry has published a free-to-view ninety-five-minute talk on the History of Tribal Forestry In Oregon. A fascinating and informative lecture.
*Please note, the Federal Government's figure is very different from the number of Native American tribes in the history of Oregon. The number also does not take into account the smaller existing tribes in Oregon.
Individuals
62,000 Oregonians own between 10 to 5,000 acres of the state's forest and make up around 12 percent of timber harvest. However, due to growing economic pressures, some of this land is in danger of being permanently unforested, such as being turned into residential developments. Information on trying to keep these properties forested can be found here.
Urban Forests
Urban forests are prevalent in Oregon. For the past thirty years, ODF has helped cities and communities promote and improve their urban forestry. Examples include:
Portland, the biggest city in Oregon, is 26 percent urban forest. Half is privately owned; the rest is on public property.
City of Tualatin has been named a Tree City USA for twenty-five years and has won awards for its promotion of urban forestry.
Corvallis has also successfully promoted its urban forestry program, winning awards and recognition, including Tree City USA.
Eugene is on a mission to increase its 23 percent urban forest to over 30 percent.
6 Common Trees in Oregon Forests
Oregon is known for its diverse tree species, totaling over sixty varieties. Oregon is also home to an incredibly diverse climate and geography. While the state is known for its rain, half of it comprises semi-arid and desert areas.
Thus, there are six trees common to Oregon, each popular in the forests that favor their preferred climate.
Douglas-fir
The Douglas-fir is Oregon's state tree and makes up 35 percent of their forests. There are three main North American varieties, but the one popular in Oregon is the coast Douglas-fir. The other two are the Mexican Douglas-fir and the Rocky Mountain Douglas-fir. 
In Oregon, the Douglas-fir enjoys being slightly away from the coast but then dominates the forests on the third of Oregon that receives high rainfall. The timber industry loves its wood, as it is both strong and fairly fast-growing. While the trees can live more than 1,500 years, they replant well and can be harvested around 20-25 years.
Juniper
There are twelve varieties of junipers, but the one that loves Oregon is the Western juniper. The tree is drought tolerant, thus grows in drier areas of Central and Eastern Oregon.

Oregon has a complex relationship with the tree. On the one hand, Oregon is trying to protect the old-growth juniper forests. On the other, it is trying to keep the tree from destroying the sensitive grasslands and sagebrush of the desert landscape.
The California Academy of Sciences published an in-depth article on this sensitive and nuanced ecological situation via their bioGraphic portal for those wanting further information.
Lodgepole Pine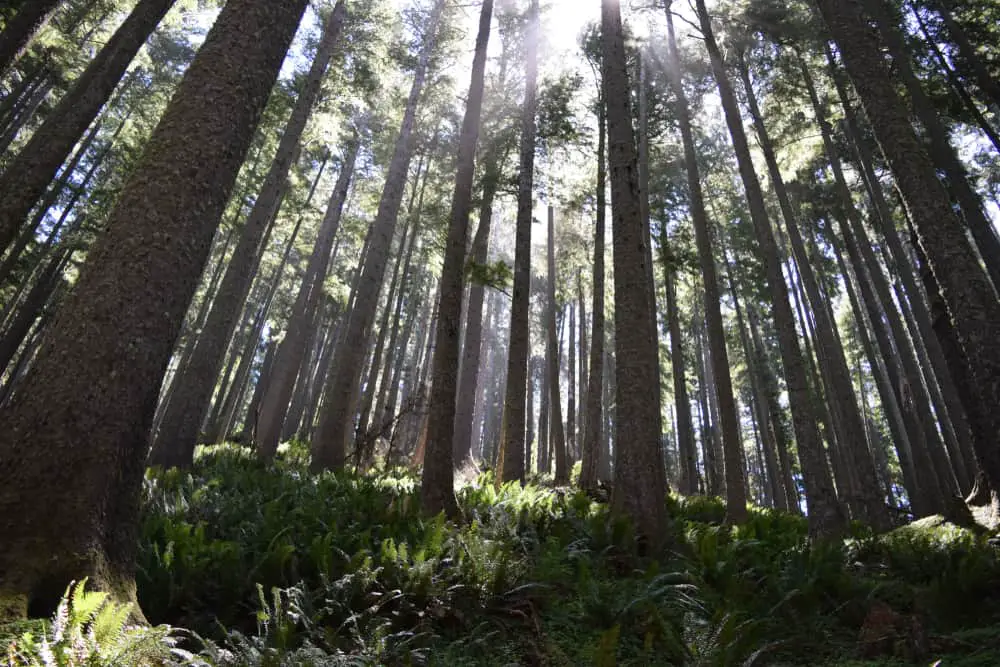 Lodgepole pine is scattered around Central and Eastern Oregon, favoring the Blue and Wallowa Mountains, covering 400,000 acres. It is a tall and slender tree that grouse, deer, snowshoe hares, and elk depend on for cover.
Ponderosa Pine
The ponderosa pine is the second most popular tree in Oregon's forests. It is found in Central and Eastern Oregon, including the Blue Mountains, East Cascades, and Klamath Mountains. Its old-growth forests are home to sensitive species such as the White-headed Woodpecker.
Subalpine-fir
Subalpine-fir, also known as Rocky Mountain-fir, is a hardy tree that can thrive at high elevations. Thus, it is found in Central Oregon's mountain ranges and scattered in the Northeast. Due to its classic tree shape with large jaunty pinecones, it is popular with landscapers.
Western Hemlock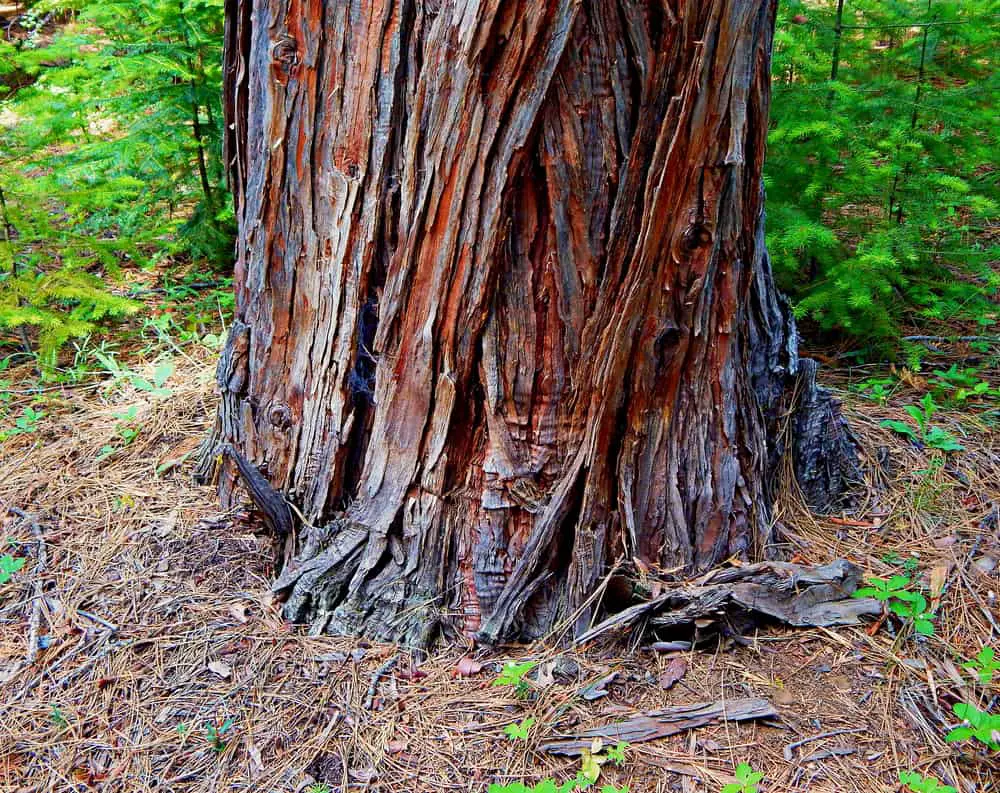 Western hemlock, also known as Alaskan spruce, dominates the Oregon coastline, loving the cool and moist conditions. Historically, the timber industry does not favor the tree, although it has recently been found to make excellent flooring.
However, unlike the Douglas-fir, Western hemlock is resistant to Swiss needle cast. The devastation caused by this fungal disease is causing foresters to rethink their replanting strategies. Thus, the popularity of Western hemlock seedlings is rising.
Are There Redwoods in Oregon?
Yes, Oregon has sequoia, often called the California redwood. Most of them are on the Southern Oregon Coast, about as north as the trees can comfortably thrive. The ancient and massive giants prefer areas with thick temperate fog.
Popular Trails Through Oregon's Redwoods
Oregon Redwoods Trail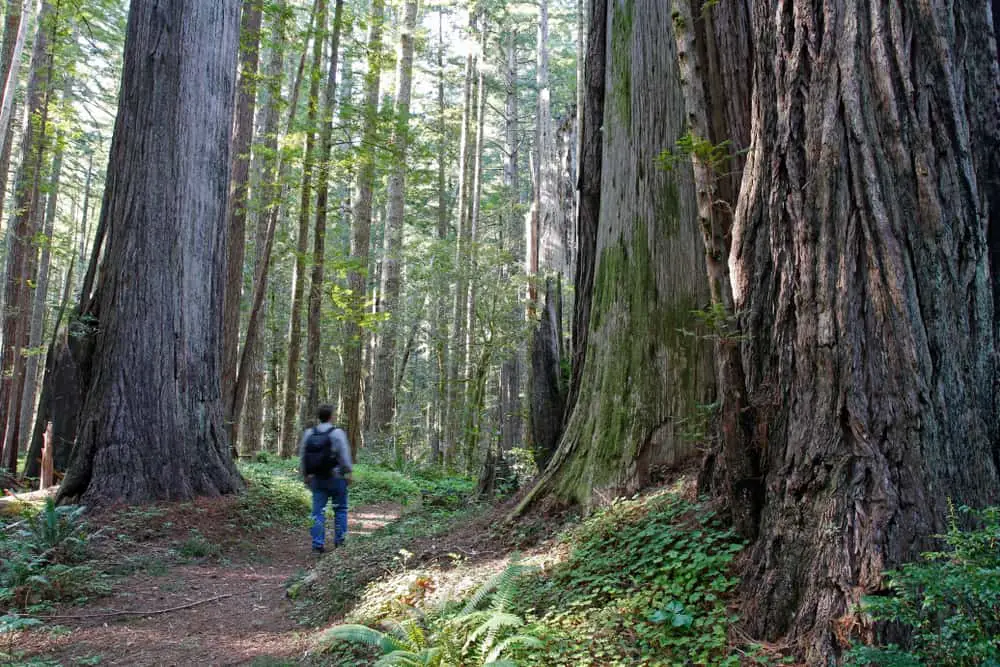 The 1.7-mile trail is an easy loop through the Siskiyou National Forest. It is located on Highway 1. The redwoods are smaller than some of the giants located further south. Nonetheless, the trail is well maintained and makes for a short, pleasant walk.
The Redwood Nature Trail
The 1.1-mile easy loop is eleven miles north of California, near Brookings. The trail winds through the northernmost redwoods that have grown naturally (rather than somebody planting them). It is believed that this area has never been logged. The forest is also host to rhododendrons, ferns, and huckleberry.