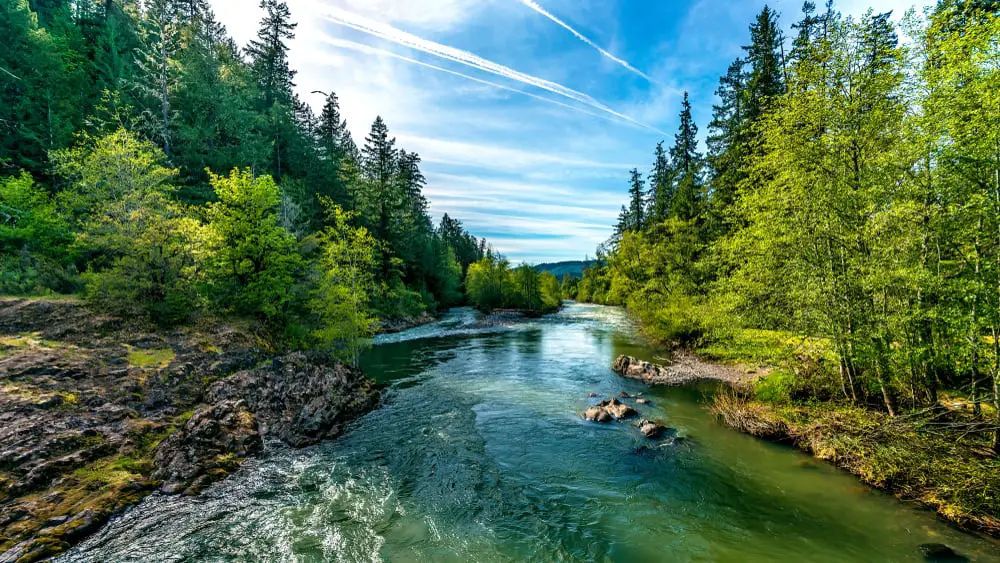 Oregon is an exciting and fascinating part of the United States that is home to some incredible forests. Forested areas cover nearly half the state, and the vast majority of forests are conifers. This area also features the rare temperate rainforest.
It's possible to see old-growth ancient trees in this area of the country, with some western red cedar trees reaching over 1,000 years of age. 
Table of Contents
Types of Forests in Oregon
Oregon is home to some incredible forests and woodland areas filled with ancient trees and beautiful, dense vegetation. It may surprise some people to learn that Oregon is actually home to a rainforest. Rich in vegetation, visitors will be pleased to find various tree types as the type of forest will change from one part of the state to another. 
Conifer Forest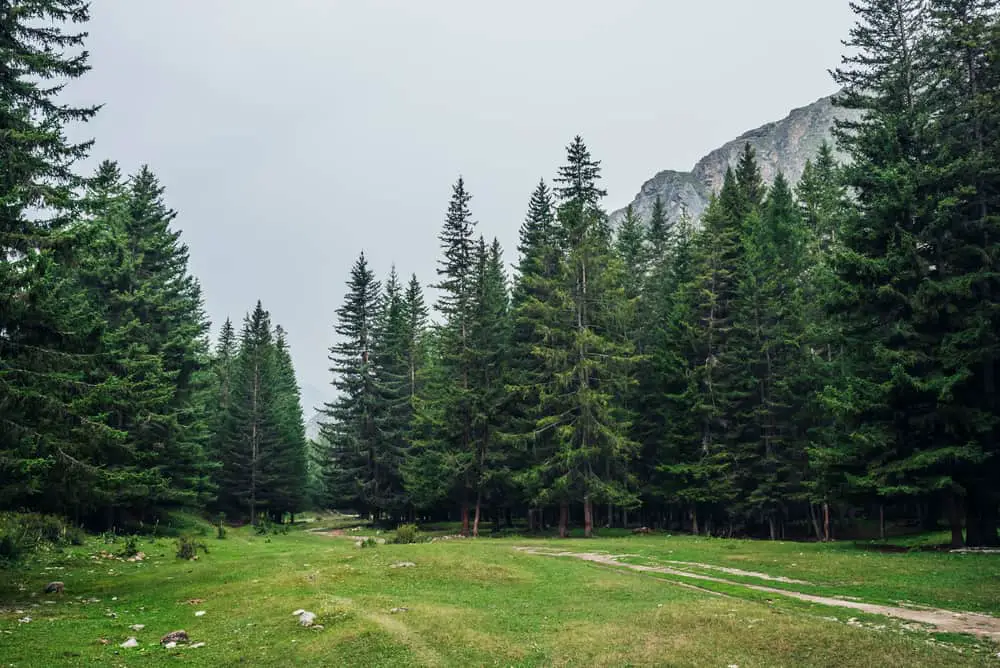 Oregon is home to many coniferous forests, which, as the name implies, consist mainly of conifer trees. These are trees that have long needles in place of leaves. They have needles attached to the tree year-long and are resistant to cold weather and harsh conditions.
Instead of flowers like other trees, conifers will get cones as they bud. These trees do an excellent job at surviving in particularly cold or dry conditions.  
The largest and most concentrated forests in Oregon are coniferous, which account for nearly 86% of all the forests in Oregon. Within the coniferous forests, Douglas fir trees account for over one-third of the total trees and vegetation. These trees are incredibly hardy, green all year round, and can grow large and strong.  
In Oregon specifically, several hemlock forests run along the crest of the Cascade mountains. Other conifer tree species found in Oregon include Englemann spruce and lodgepole pine trees. There are also plenty of true firs in the area.  
Rainforest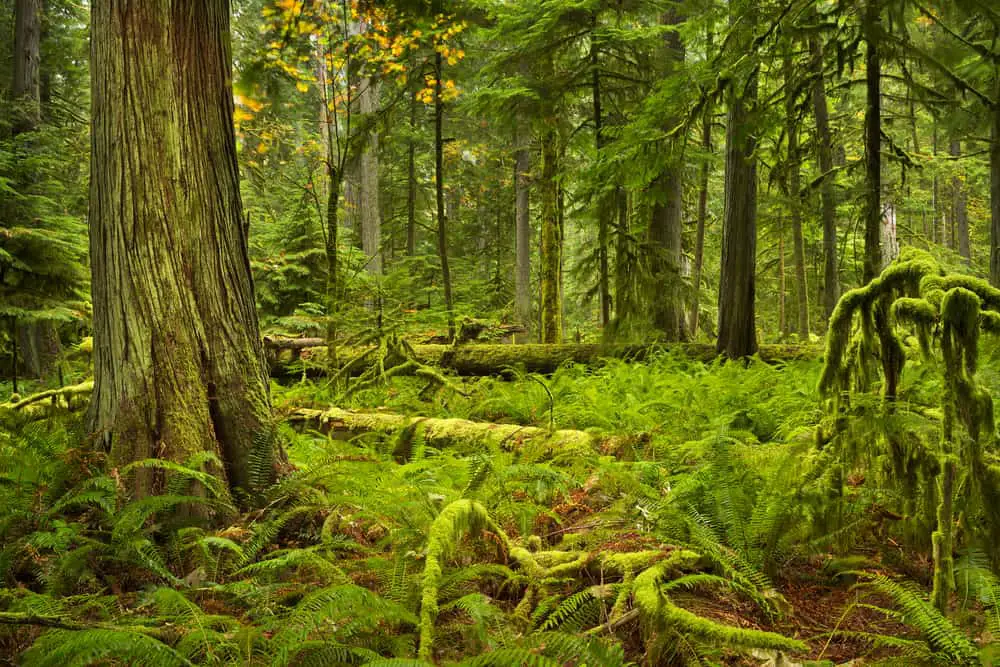 Even though many people associate the rainforest with tropical climates, there is a rainforest located in Oregon. To qualify as a rainforest, the area simply needs to receive more than 60 inches of precipitation a year. In Oregon, the rainforest gets a whopping 180 inches of rain every year, making this a temperate rainforest.  
The Valley of the Giants is the rainforest in Oregon, about 31 miles away from Lincoln City. This area encompasses 51 acres and is managed by the Bureau of Land Management. This natural area is protected, and the Siletz River runs through the nature area.
You can expect to find plenty of old-growth trees in the mature forest within the rainforest, which reach great heights. Like the rest of Oregon, the majority of the old-growth forest in this area are conifers.
Ancient Forest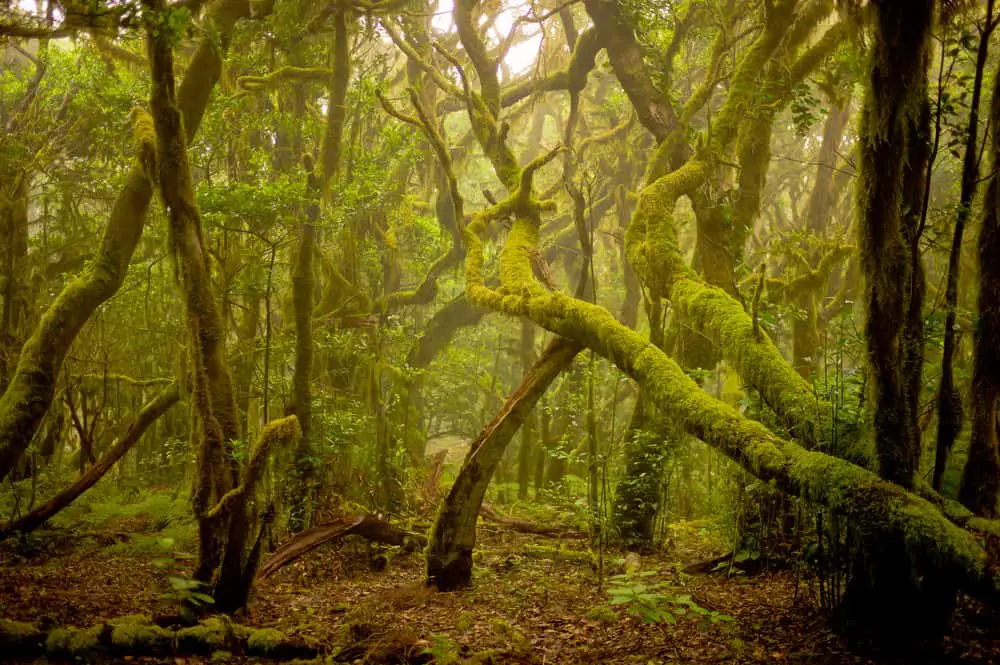 One trademark feature of Oregon's forest diversity is the amount of old-growth within the area. Many people consider old-growth trees anything that has survived for longer than 100 or 150 years. However, in Oregon, trees can be ancient, and some can live to be 600 to 1,000 years old.
There are several cedar groves in the Opal Creek wilderness area that contain ancient trees. Other areas with ancient forests include the Big Bottom area around the Clackamas River. Although it is still considered an ancient forest, the areas around Mount Hood are much younger, and many trees are between 100 and 150 years of age.  
While an old-growth forests can survive through climate changes and external conditions, they are shrinking at an alarming rate. Today, less than 10% of Oregon's ancient forests remain. Much of the land has been reclaimed for logging due to the immense size of these strong and powerful trees. The US Forest Service and Bureau of Land Management help manage and protect the ancient forest land in Oregon.  
Boreal Forest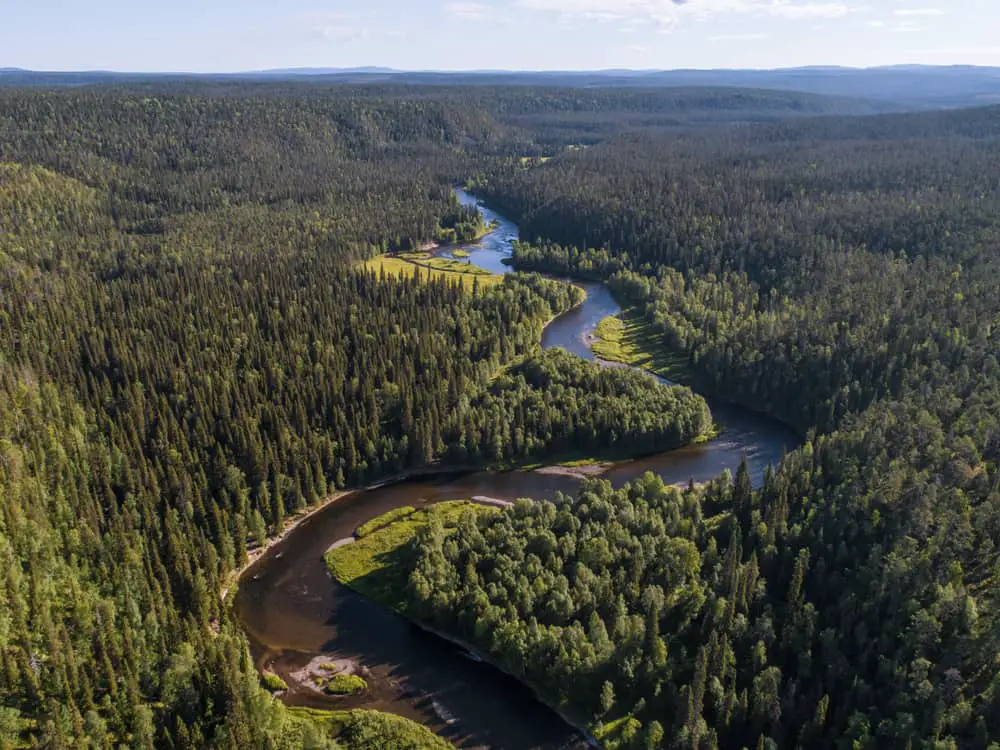 Much of the true boreal forest types are located in the north, populating much of Canada, Alaska, and Russia. These forests are defined by their resistance to extremely cold weather. Many of the trees that live in Boreal forests are thick evergreens or conifers, although it is possible to find particularly hardy deciduous trees as well.
Boreal forests are usually home to cold-weather animals like reindeer and caribou, which are not found as far south as Oregon. 
The Pacific Northwest in the United States is home to several coniferous forests, which give the look and feel of a boreal forest type. However, the Pacific Northwest, including Oregon, is just too far south to experience the brutal and harsh weather that true boreal forests experience year after year. Instead, Oregon is home to rich conifer forests that have the same appearance. 
FAQs
Learning about Oregon's forests is fascinating and informative, with so many differentiators and distinguishing features that make these forests so special. However, it can be a bit overwhelming trying to understand everything Oregon has to offer. Below, to better help you understand the forest types in Oregon, we have put together a list of commonly asked questions surrounding the forests.
Hopefully, these answers help give you a better understanding of the many forest types in Oregon. 
Where are the huge trees in Oregon?
There are several species of trees in Oregon, and many are conifers that reach towering heights. Some of the largest trees in Oregon are cedars, while others are western hemlocks. The largest trees, though, are Douglas fir trees which regularly reach over 100 meters high.
These tall trees are usually concentrated around Coos, Lane, and Douglas county.  
What types of animals live in Oregon's forest?
Oregon is home to many species of animals, including a wide range of birds that like the area because of its desirable wildlife habitat. One of the most common bird species in Oregon is the spotted owl. It is also possible the habitat of northern flickers, American robins, chickadees, and goldfinch.
In total, there are 542 different bird species in Oregon.  Other animals that live in the forest habitat include elk, mountain lions, river otters, and black bears.  
What is the biggest forest in Oregon?
The largest forest in Oregon is Willamette National Forest, located in Willamette Valley. This forest occupies nearly 1.7 million acres of land in the state. Other large forests to visit in Oregon include Fremont National Forest and Deschutes National Forest.
What is the most common tree in Oregon?
Oregon is home to several coniferous forests, so it makes sense that Oregon's most commonly found tree is also a conifer. A Douglas fir tree is the most common tree type in the state of Oregon. 
How many forest types are there in Oregon?
There are two main forest types in Oregon. The majority of forest types in Oregon consist of conifer forests or even mixed conifer forest combinations. These forests consist of evergreen trees that have needles instead of leaves. There is also a small area of Oregon that has a rainforest.
While the state may look similar to other boreal forests, this is technically not a boreal area. Oregon is too far south to have the boreal climate and animals common in boreal forests. 
What percentage of Oregon is forest?
Almost half of Oregon is forested, with 48% of the state covered with forest area. Although this may seem like a decent amount of area, the old-growth forests are only 10% of what they once were due to logging and ongoing deforestation in the area.